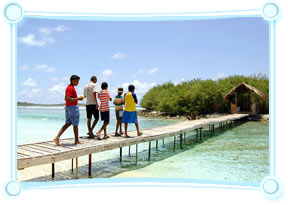 People of Maldives Island are very warm and friendly. They have a strong faith in Islam. Highly spiritual and dedicated, Maldives people have a great respect towards each other and outside visitors. Maldivians reflect a blend of tradition and modernity. Intelligent and hardworking, they have been making significant contributions in the economy of the nation.
Maldivian people set a perfect example of generosity, trustworthiness, friendship & hospitality. When a newcomer visits their place, the chief of the island offers him/her a cold coconut drink and a nutritious snack, usually made of seafood. People residing here belong to different backgrounds. Majority of the people are Sunni Muslims.
Children are motivated to endeavor for higher education. Outstanding women hold strategic positions in the Government and strive hard to serve their nation and people. During the time of festivities, people are in their full mood of celebration with men, women and kids singing, dancing and enjoying themselves.