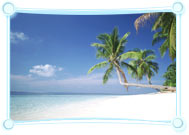 Ratings:
5 Star
Address:
North Male Atoll,
Maldives.
Accessibility:
10 km. from Male International Airport, 20 minutes by speedboat from airport.
Hotel Description:
Paradise Island Resort & Spa is the perfect choice for first time visitors to the Maldives, with its high standard of accommodation and excellent range of facilities. Paradise Island is a 5 star resort island with absolutely everything for the sun worshippers. The island is close to the nations' capital island of 'Male'.
Accommodation at Paradise Island Resort & Spa, Maldives:
Paradise Island Resort & Spa offers 260 rooms categorized into 220 Super Deluxe Rooms facing beach and 40 Water Bungalows. There is little difference between the bungalows, except for the views of, and steps down into, the lagoon. All the rooms are well situated, with excellent infrastructure. On the whole the beaches are remarkably good to refresh yourself.
Amenities & Services at Paradise Island Resort & Spa, Maldives:
Gymnasium, basketball, volleyball, badminton, tennis and table tennis, stream, bath sauna, and board games including billiard and dart, catamaran, parasailing, banana boat riding, canoeing, ring o' riding, knee board, windsurfing, snorkelling, water scooter, water skiing, water bikes, paddleboats and snorkelling, safaris, island hopping / half day & full day, morning / night fishing and big game fishing.