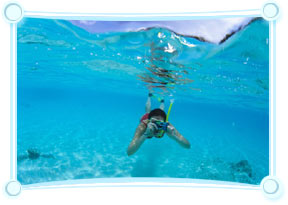 Snorkeling in Maldives is increasingly gaining momentum, as it gives an opportunity to even those people, who cannot dive or do not feel enthusiastic about trying diving, to enjoy the wonderful underwater life by simply wearing a mask and fins. Read on to know more about snorkeling sport in Maldives…
These days, most of the hotel resorts are making provision for snorkeling. The calm waters around the coral islands of Maldives make snorkeling very easy. The superb visibility of the sea, the credit for which goes to its crystal clear waters, enables you to witness the underwater life as you snorkel.
Snorkeling allows you to become a part of nature and glance at the colorful fishes that flock around the hotel resorts in the lagoons. The best part about snorkeling is that it makes you feel the depth of the world lying beneath you and it is something that really astonishes people. Maldives is considered to be one of the best destinations for snorkeling in the world.