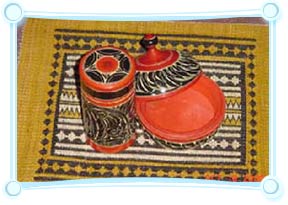 When it comes to Maldives arts and crafts, it can be said that the tradition of craft making is not new and is being passed on from one generation to another. The main factors that can be attributed to the making of the wonderful traditional arts and crafts of Maldives are the specialization of its people and easy availability of raw materials like the special reeds and grasses that are utilized for weaving mats.
Maldives handicraft items can be classified into different categories, namely, lacquer ware, woven mats, coconut products, boat building and jewelry - silver, gold, mother of pearl & coral. There are several handicraft household items like coconut graters, wooden mortars and coconut shell spoons etc that sell like real hot cakes in the market. There are awesome jewelry pieces made from mother of pearl and black coral that truly adorn the women.
Lacquer is a highly artistic artwork, in which the craftsman shapes the wood so as to make the objects of his desire, using a lathe. Mats of various shapes and sizes are woven using reeds. Decorative lampshades are made from reeds or strips of dried stems of coconut palm. Other popular handicraft items include toddy holders made from coconut shells, woven palm leaf baskets and mats and woven trays for winnowing rice. This beautiful place provides the tourists with a wide variety of handicraft items to shop for.