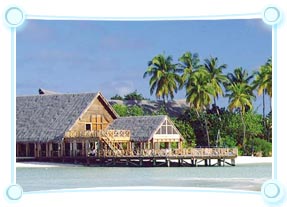 Ratings :
5 Star
Address:
South Male Atoll,
Maldives.
Accessibility:
Cocoa Island is located 30 km. from the Male International Airport and it takes 30 minutes by speedboat to reach the Island.
Hotel Description:
Cocoa Island is located in the Maldive Islands, each a perfect smudge of white. The quiet waters of the Indian Ocean the strongest winds are gentle breezes, and the highest points, leaning palm fronts. A tiny slither of land surrounded on one side by one of the best dive sites in the Maldives and on the other by aquamarine shallows.
Accommodation at Cocoa Island, Maldives:
Cocoa Island offers 33 dhoni-style thatched houseboats categorized into 8 Dhoni Standard Suites, 9 Dhoni Loft Suites, 10 Loft Villas, 4 One-Bedroom Villas and 2 Two-Bedroom Villas. All the rooms are inspired by dhoni boats, as used by local fishermen, adjoined by simple wooden walkways built above the shallow ocean. These wonderful houseboats include elegant bedrooms that extend into spacious lounges with glass walls opening onto private verandas.
Amenities & Services at Cocoa Island, Maldives:
Restaurants, coffee shop, patisserie, tennis courts, pool, health club, hair salon, bar, nightclub, babysitting, laundry service, business services, Internet room, travel services, Beauty Parlour,Travel Desk, Barber shop, Courier service, Front Desk, Free Newspaper, Bar, Restaurant, Conference Facilities, Sauna, Jacuzzi, Steam, Swimming Pool, Health Club, Doctor on call.