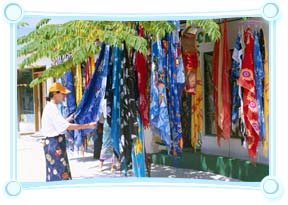 In this article, we will provide you with the Maldives shopping guide that will tell you about where to shop in Maldives. Male, the capital of Maldives is the main shopping hub that provides a real delight to the shoppers. The best picks of this wonderful country include jewelry, cosmetics, apparels, electronic gadgets and gizmos, local handicraft items, perfumes and canned fish.
Shopping Centers In Maldives
Majeedhee Magu
Located on the main road in the island, Majeedhee Magu is the main shopping place in Maldives, where you can find virtually anything under the sun. You can check out some trendy handbags and watches or else look out for perfumes and cosmetics over here.
Chaandanee Magu
This is another happening shopping place of the city that is famous for its souvenir items. The main items include the "thudu kuna", which are basically mats woven by Maldivians using local natural fibres and the charming wooden miniature dhonis.
Local Market
Here, you can find in display, the local produce from atolls consisting of distinctive kinds of local fruits, vegetables, jams, sweetmeat, homemade sweets and pickles etc.
Note:
It is prohibited to export the products made from pearl oyster shell, black and red coral and turtle neck.