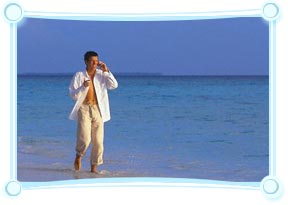 In this article, we will provide you with information on the Maldives communications. Keeping up with the latest technology and having international satellite links, the country has a sophisticated communication system. There are different modes of communication in Maldives, thus getting in touch with people residing in other parts of the world is very easy.
Virtually, all the island resorts offer everything from international direct dial phone and fax service to Internet access. Therefore, the problem of how to communicate in Maldives is out of question. Most of the cruising vessels in the Maldives are well equipped with wireless phones.
The network of mobile phones is expanding at a very fast pace. Prepaid kits and roaming services are easily available. Most of the resorts provide Internet facilities. Also, you can find cyber cafes at Male, the capital city of Maldives. The inhabited islands of Maldives are well connected with phones and fax service.
The country also provides postal services. It takes about a week time for the airmail to reach Western Europe. To make us aware about what is happening in and around the country, press comes to play an important role. Local dailies publish the news in Dhivehi language. However, a few pages are written in English language.